volt.ws ltd
UK company #11819712
Volt
Download Volt 1.0 RC 1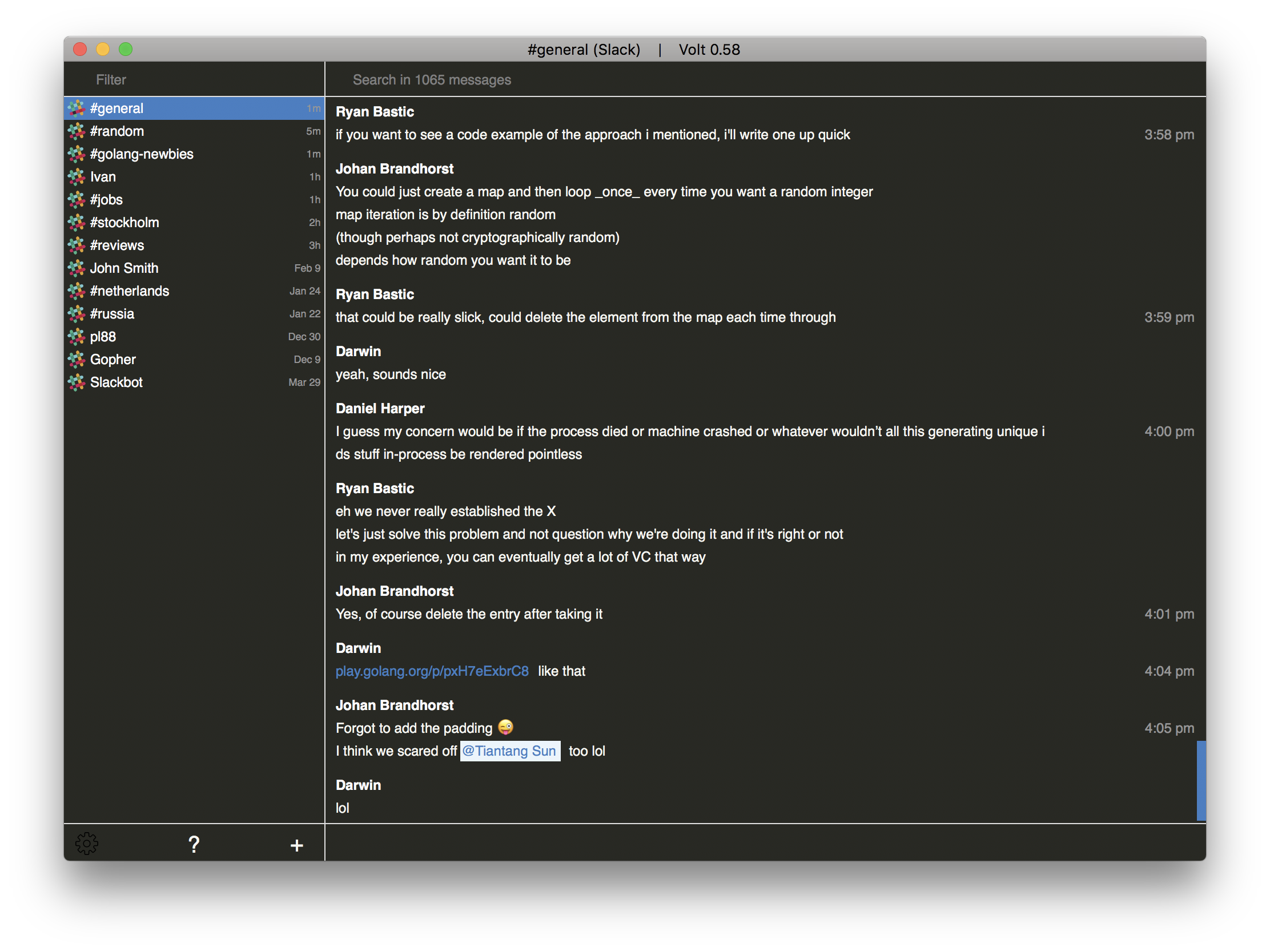 All binaries are signed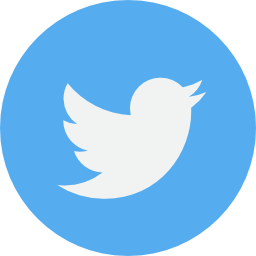 @volt_app
3 Aug '19
- Fixed missing icons in new Volt installations.
- Sorry for the long delay, the focus is on releasing Volt 1.0 on August 14 now.
26 May '19
Volt 1.0 RC1:
- The size of the Windows build was reduced from 2.1 MB to 0.3 MB.
- Major stability improvements for Linux and Windows builds, to make them on par with the macOS build.
- All new Slack messages are now downloaded on program's launch. Previously some messages could be skipped.
- Messages are now downloaded faster while using less bandwidth.
- "Download all" button. Now you can download hundreds of thousands of messages with one click.
- Fixed issues with rendering after resizing the main window.
- Compact mode: diplay usernames on the same level.
- Mod tools: delete multiple messages at once.
- Thousands of Slack emojis are now supported.
- Notification sounds.
- Lots of memory leaks fixed.
- Lots of improvements in the rendering engine (blocks of code, bold text etc).
- There's now a small visual indicator for chats that are being updated.
- HiDPI support on Windows.
- You can now paste text into the authentication form on Windows.
- Enabling dark mode no longer requires a restart.
28 Mar '19
Volt for Linux is live!
17 Mar '19
Sorry for a long period without new releases.
0.81 is the biggest release yet with support for Twitter and Gmail, dramatically improved performance (no more "fetching new messages... please wait"), lots of Windows fixes, and visual improvements.
Linux support in 0.82.
8 Mar '19
The first public beta of Volt for Windows has been released!
Volt for macOS has been crash free for the last 3 days with hundreds of users.
28 Feb '19
Volt 0.68:
- Private Slack channels
- Volt can now be launched without admin rights from ~/Applications
- Lots of internal fixes to improve stability
22 Feb '19
Volt 0.67:
- The rendering engine has been optimized. It's now ~40% faster.
- Monospace font option
- An infinite crash loop some users were experiencing has been fixed
- Almost all crashes were fixed. Only 2 left. According to the crash report tool, crashes are down by 90% :)
19 Feb '19
Volt 0.57 is out:
- A very annoying bug with messages not rendered has been fixed
- @ mentions are now displayed correctly (only for new messages, delete cache and re-login to apply to old messages)
18 Feb '19
Volt 0.55 is out:
- Volt is now relaunched automatically after an autoupdate
- Finally a huge bug that was causing the crash for many users has been fixed
- Many macOS Mojave users still experience crashes. The cause is known, I'm working on a fix.
14 Feb '19
Volt 0.52 is out:
- Autoupdates fixed
- DMG "installer" instead of a ZIP archive on macOS
- An improved icon (thanks to Leon Kirschner)
- Dark mode (needs some adjustments)
- And of course crash and bug fixes
13 Feb '19
I spent most of the day working on the Windows build for the planned Feb 13 release.
Unfortunately I'm not satisfied with the quality of the build. I'm also moving house tomorrow, so the release is going to be postponed by 2 days.
Sorry about that.
13 Feb '19
Volt 0.48 is out:
- You will no longer be logged out after updates
- The app is automatically moved to /Applications on macOS
- More detailed crash logs to make fixing crashes easier
12 Feb '19
Volt 0.46 is out:
- Autoupdates!
- More crashes fixed
- Instant restart after a crash
- Messages can now be copied
- Fixed a bug with your own messages sometimes not appearing
11 Feb '19
Volt 0.42 is out:
- Slack usernames are displayed correctly again
- Chats with the most recent messages are now placed on top
- Chats can now be pinned: you can make your favorite and important chats always stay on top
- 12-hour time format setting
9 Feb '19
Volt 0.41 is out:
- More crashes fixed
- Skype is back
- Slack DMs are now loaded as well
- Channels are marked with '#' to distinguish them from DMs
- Crash reports are now sent to the server for faster fixing
8 Feb '19
Volt 0.36 is out:
- Lots of crashes fixed
- Slack channels are now loaded instantly, no need to wait for user data to load
- Slack messages are fetched up to 10 times faster
- Support form no longer complains about an invalid email
- Slack user names are temporarily not loaded
7 Feb '19
The first public beta has been released for macOS.
It's been downloaded by more than 3000 users in less than 10 hours!
Many people are reporting crashes. Windows version will be released in the next couple of days after these major issues are fixed.
Blazing fast Volt can handle hundreds of thousands of messages without lag. You can scroll to any point in the conversation instantly and search across thousands of messages in milliseconds.
Light Volt is a native desktop app that weighs about 300 KB and has minimal CPU and RAM usage.
All chats in one place You no longer need a dozen apps to reach all your contacts across various platforms.
FAQ
What language is Volt written in?
V. It's a new language I created to develop Volt. You can read about it here.
Volt uses native UI APIs: (Cocoa on macOS, Win32 API on Windows, GTK+ on Linux).
Are my passwords secure?
Volt doesn't ask for your passwords and doesn't store them anywhere. Authentication is performed in a browser directly on the platform's website.
Is it really only 300 KB? Or is it just an installer that downloads another 300 MB?
No, it's not an installer. The entire app fits into a ≈300 KB ZIP archive, and the only extra thing it downloads is ≈300 KB of high res icos, which are not required for the app to work.
In the age of 300 MB chat clients and 10 MB web pages we started to forget how powerful our computers are and how much can fit in 1 MB. A lot of time and resoures were spent to ensure the small size and great performance.
How much does it cost?
Volt will always be free.
Is my data sent anywhere or shared with anyone?
No. Volt stores your messages and contacts on your machine for offline use and better performance. That's it.
Are there ads?
No, Volt will always be ad-free.
You don't have ads, and you don't sell user data. What is the sustainability model?
Hopefully as Volt grows, it will get more supporters on Patreon. There will also be an affordable premium plan for things like having more than 5 accounts. The base functionality will always be free.
Is Volt open-source?
Not at the moment. Right now the development model is similar to that of Sublime Text. The app is going to be open-sourced in 2021.
If Volt is not open-source yet, how can I be sure my messages and accounts are secure?
The plan behind Volt is to build a light, fast, and reliable client for millions of users, not to spy on your data or sell it.
Volt is a registered European company, all binaries are signed by the company certificate. Violating your privacy by sharing or analyzing your data is a criminal offence.
Is there a mobile app?
No, sorry, right now the focus is on the native desktop clients.
Have an unanswered question? Contact us via
support@volt-app.com
About us